Subscribe to our
Yoga Portal
Bring the yoga studio with you! JAI On Demand is a new offering and digital yoga experience that empowers you to practice yoga in your own time and space. Whether you can't make it to the studio or want to build upon techniques learned in class, On Demand is here to assist. There are two low cost recurring subscription options and new content is updated regularly.
Join Meg + Dustin Horan and all your favorite yoga teachers in our new online yoga studio!
Benfits of On Deamand Yoga Classes
Learn At Your Own Pace
Practice Anywhere In The World
Wide Variety of Class Types
New Content Added Daily
Learn Philosophy of Yoga
Simple Low Cost Subscription
Never Miss A Yoga Class
Deepen Your Practice & Connection With Your Body
The Same Great Teachings From JAI Yoga School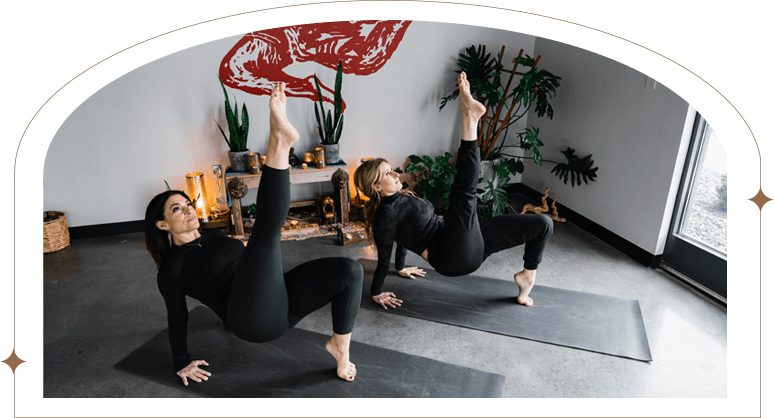 The Portal is a new feature of our website giving members access to all virtual classes (past and future) at their fingertips.
What does membership includes?
You can purchase a weekly or monthly membership to the portal. While your membership is active you'll be able to access all virtual classes (past and present). When you purchase a membership you will create a login to our website and a link to the portal will be emailed to you. If you are not logged into the website, the portal disappears into the ether.
How Often Is New Content Added?
A variety of fresh new classes and content are added to the portal weekly.
Where do you access the Portal?
When you are logged into our website after purchasing a membership you can access the portal here. If you do not have an active membership this page disappears and will appear not to exist. 😉
What happenes at the end of the Membership?
By default, all membership subscriptions automatically renew for the same duration originally purchased. If you purchased a weekly membership to the portal, at the end of 7 days, your payment method will automatically be charged $5 and you will continue to have access. You can cancel membership and update payment method or personal info at anytime in your account dashboard.
Can I cancel my Membership?
If you need to adjust membership and subscription settings, payment method, or personal info please email jaialbany@gmail.com
While we have been planning this offering for some time, we decided to launch in the wake of COVID-19. Anyone who is currently paying for an infinity or yearly membership is given complimentary access to the portal. Look for login information to the JAI website and your account in your email.